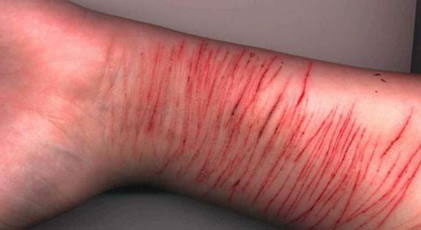 After my latest episode with cutting (this is not my arm), I realize that most 'common folk' are just not equipped to know what to do, or even how to react to self-harming. I think it is interesting how some people act like they are actually offended when we self-harm. Like 'how could we put
them
in that situation'. I do try to look at other people's points-of-views, so I thought I'd try to give some pointers for loved ones of self-harmers. Please pardon me if I come off sounding like I have an 'us' versus 'everyone else' mentality. But unless you are a self-harmer - I really don't think you can understand. This is just generalized advice. First, let me see if I can shed some light on the 'why' of it.
1. It's not about you...its not about us, and its not about suicide, either.
Outsiders need to understand that self-harm doesn't have anything to do with them...that's why it is called 'self' harm. Most times it isn't even about us, the self-harmers. Sometimes it is about the pain; sometimes it is about the blood. Sometimes we self-harm to heal another part of ourselves. But it is almost never about suicide. We're not trying to kill ourselves. Trust me - we already know
exactly
how to do that. Self-harm isn't about suicide...even when we're suicidal.
2. Self-harm is full of symbolism.
The scarring, the blood, the act of self-harm it self is extremely symbolic for us. Sometimes we'll even write poetry about it.
For me, this symbolism has nothing to do with Satan, God, or anything like that. For example, once I've used a particular razor to cut, I'll cut with it until I feel 'okay' again, then I'll discard that razor. I don't want to even touch it again. It has served its purpose. Now, that doesn't stop me from going and getting another one (I purchased a 100 pack of blades) - but I don't because that self-harming episode is over and I feel okay again.
3. Self-harm usually occurs when we are under a lot of stress and are frustrated.
Sometimes we cut because we want to express frustration but don't want to express it verbally.
The cuts then become like little screams, a way to yell, let out that 'pressure', and not have to confront the source of the stress and/or frustration. Sometimes we cut when we feel like we're not being heard or understood. Whatever the reasons, the underlying cause is a great deal of stress and/or frustration.
Okay, so knowing all this, you as the bystander are supposed to do what exactly?
Here are the suggestions:
Don't look at us like we're crazy. This is an addiction and coping mechanism...just like smoking.

Don't jump to conclusions and assume that we're trying to kill ourselves. Dying a death by a thousand cuts isn't something we're interested in.

Don't panic and try to remove our instruments of choice. That makes us feel like a child and when the next time comes up, we'll find something else to self-harm with. And because we would be self-harming with something less familiar, we risk potential fatal injury.

If we want to talk about it, please - please just listen. Don't try to fix anything.

If possible, help to keep the stress levels down.
Keep a medical first aid kit handy. Be prepared to take us to the emergency room if the cuts need stitches and be willing to fight with us for humane treatment at the hospital.

Don't crowd...give us some space to regroup.

If we have DID, know that this cutting episode may be triggering or may have been a reaction to a trigger.
If you see us wearing long-sleeved clothing in the middle of summer, don't make a big deal about it. More than likely, we are trying to hide our scars.

Don't help us if we don't ask for it.

Basically, the best action to take is to just 'be' there...follow our lead. We usually find our voices after the self-harm and are able to articulate clearly how we will need your assistance and support.